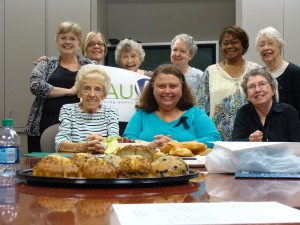 A group photo taken September 20, 2013. From left to right: Front, Joy Van Wickler, Diane Schrier, Deborah Parsons; Rear, Margaret Arthur, Elizabeth Curry, Eileen Hoppert, Janet Johnston, Lois Lilley, and Laura Lee Wilson.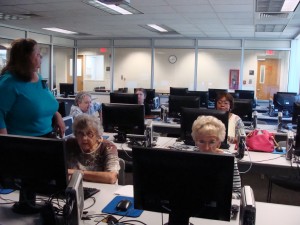 TechTalk: At our meeting on September 20, 2013, our members had an opportunity to acquaint themselves with the basic operations of the computer and with its online functions. Led by our own Diane Schrier (far left), we learned about AAUW's national website and the tremendous amount of information it conveys. We also got a look at our Ocala website and our Facebook page. We talked briefly about the importance of having an online presence relative to our branch activities, and to the power of connectivity with local and world events via the Internet.
New president Margaret Arthur strategically placed herself, with a bowl of chocolates in hand, next to the free pizza on the first day of classes. She chatted up students standing line, asking them about their course of study, their dreams and hopes.
June 2013: National Convention
April 2013: State Convention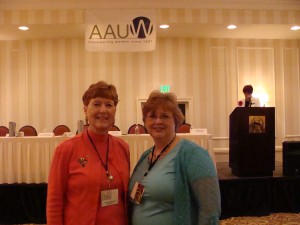 Incoming president Margaret Arthur (right) and branch member Vivian Erricksson (left) represented the Ocala branch at the state convention held in Orlando. The primary theme of this year's convention was to move AAUW onto college and university campuses in a move to give students the tools they will need to be successful in their chosen career. It was very inspiring.